Numlock News: December 4, 2019 • Cannonball, Tumblr, Lyrics Law
By Walt Hickey

Lyrics Lawsuit
Genius Media Group, which publishes music lyrics, filed a $50 million lawsuit against Google and LyricFind, a rival site that contracts with the search giant, over allegations the companies lifted lyrics from Genius without attribution. Granted, Genius does not in fact own any of the copyrights pertaining to the lyrics, but they did catch them red-handed lifting their transcriptions. Back in June, Genius announced it had watermarked 301 song transcriptions using weird spacing from October to December 2018, and found that 116 of them — 39 percent — wound up on lyric boxes on Google. This can have a big impact: when "Lose You To Love Me" by Selena Gomez has lyrics on Genius but not Google, 75 percent of people searching clicked through, and it got 600,000 page views. Once Google posted the lyrics — sourced to LyricFind, but containing the tell-tale Genius watermark — click through fell to 5 percent. In August, they made a new watermark, and claim that they found over 1,000 such examples on Google, 828 of which were still on Google.
Robert McMillan, The Wall Street Journal

The Cannonball
The Cannonball Run record is an unofficial and deeply illegal racing challenge that's nearly 50 years old, a drive from the Red Ball garage in Manhattan to the Portofino Hotel in Redondo Beach, Los Angeles. Three men in a deliberately nondescript gray sedan managed to pull it off in just 27 hours, 25 minutes, a massive improvement on the 28 hours, 50 minute record set in 2013 and light years ahead of the inaugural 1971 effort, then-40 hours, 51 minutes. Now if you're wondering why it's necessarily illegal, they did 2,825 miles in that amount of time and thus secured an average speed of 103 miles per hour. The vehicle appeared to be a boring 2015 gray Benz sedan on the outside, but on the inside was a souped-up car tricked out with electronic countermeasures to beat the fuzz and access to a national network of drivers collecting advanced intelligence on the road ahead. Sure, this is a foolhardy and cocky act of risk-taking, but given my own experience on the Toad's Turnpike level of Mario Kart 64, I possess a deeper appreciation for the call of the road than mere novices, despite not owning a car for 12 years. 
Benjamin Preston, Road and Track
No Business Like Show Business
Broadway box office receipts are down 7 percent so far this year compared to last, with the New York theaters grossing $866,606,454 so far in 2019. All told attendance has been 7,350,276 which is fairly flat compared to last year. Thanksgiving is always a big one for the theaters, and this one was no exception with $41,687,333 over the course of the day, just a hair shy of the $43 million hauled in last year. Year-to-year changes are common for the Great White Way, but let me just say if you're sitting on a hip-hop phenomenon biography musical of, say, Lincoln's Secretary of War Edwin Stanton, now's the time to chirp up, as the theater business could really use a hit right now. It's my understanding you can just write "TO: SCOTT RUDIN" on the manila folder containing the book and hand it to the Times Square unlicensed Minnie Mouse and it'll make it there. 

Tumblr
In December 2018, Tumblr banned all nudity and pornography from its site. A year out and the results are in: this went fairly badly for Tumblr. From 2018 to 2019, U.S. visitors to the login page fell 49 percent, the average daily active users fell 35 percent on Android, and the number of pages per visit fell by over 1.5 pages. This is because — and I don't know how much this is news — pornography is fairly popular on the internet. According to an in-house research team, the average Tumblr user followed 51 blogs, and on average two or three were specifically and exclusively pornographic and an average of two were what the researchers termed "bridge blogs," but what the rest of us would call "horny on main." Absent the adult content, Tumblr users moved on to more sophisticated and refined distractions, like posting stuff that was on Twitter yesterday. 
School's Out
The Raleigh school system is weighing a transition to a year-round school calendar to handle overcrowding in a district that's grown 60 percent since 2000 to 160,000 pupils. In the U.S., just 2.8 percent of traditional public schools were on a 12-month calendar as of the 2017-18 school year. While it's the norm in countries like South Korea, Australia and Japan, that 2.8 percent is half the 5.3 percent of schools that operated on the year-round calendar in 2003-04. The advantage is that with the right organization, a full-year system can boost capacity by 25 percent by staggering breaks and divvying up the student body into several parts. The American summer vacation is a vestigial leftover from an agrarian society, though the science is still out on whether one system is more advantageous than another. 
Valerie Bauerlein, The Wall Street Journal

Streaming
Netflix and YouTube will start feeling the streaming war heat next year, according to new projections. In 2020 Netflix will see its share of daily video streaming — 27 percent in 2019 — slip to 26.4 percent, with a further dip to 25.7 percent by 2021. YouTube will see its share of the streaming video pie slip from 23.4 percent in 2019 to 21.7 percent by 2021. To be clear, that's not because people will watch any less Netflix or any less YouTube: Netflix will average 29 minutes per day among adults next year, up 6 percent, and YouTube minutes per day will increase from 23 minutes to 24 minutes.  It's just people will discontinue other activities in favor of watching streaming television, with an estimated 108 minutes of streaming viewed per day in 2020, up 20 percent compared to 2018, and new streaming services mean that time will be split. 
Ads
The current estimate is that federal political advertisement spending will hit $9.8 billion next year, a sizable bump on top of the $244 billion spent in 2019. That ad spend is up from the $8.4 billion spent in 2018. When you add on local and state races it's projected to come in somewhere between $16 billion to $20 billion. Now on one hand, is this a distressing statistic underscoring the out-sized influence of money on the future of the republic and a sobering reminder of the fragility of the democratic system from even genuine influence campaigns? Well, sure, but on the other hand when you really get down to it the political process is a sizable wealth transfer from billionaires with opinions to entertainment companies that operate in swing states, and I can think of worse dystopias. 
Georg Szalai, The Hollywood Reporter
Thanks to the paid subscribers to Numlock News who make this possible. Subscribers guarantee this stays ad-free, and get a special Sunday edition. Consider becoming a full subscriber today.
---
Thank you so much for subscribing! If you're enjoying the newsletter, forward it to someone you think may enjoy it too! Send links to me on Twitter at @WaltHickey or email me with numbers, tips, or feedback at walt@numlock.news. Send corrections or typos to the copy desk at copy@numlock.news.
The very best way to reach new readers is word of mouth. If you click THIS LINK in your inbox, it'll create an easy-to-send pre-written email you can just fire off to some friends.
Previous 2019 Sunday special editions: Secondhand · Biometrics · Voting Machines · Open Borders ·  WrestleMania ·  Game of Thrones ·  Concussion Snake Oil ·  Skyglow ·  Juul ·  Chris Ingraham ·  Invasive Species ·  The Rat Spill ·  The Sterling Affairs ·  Snakebites ·  Bees ·  Deep Fakes ·  Artificial Intelligence ·  Marijuana ·  Mussels ·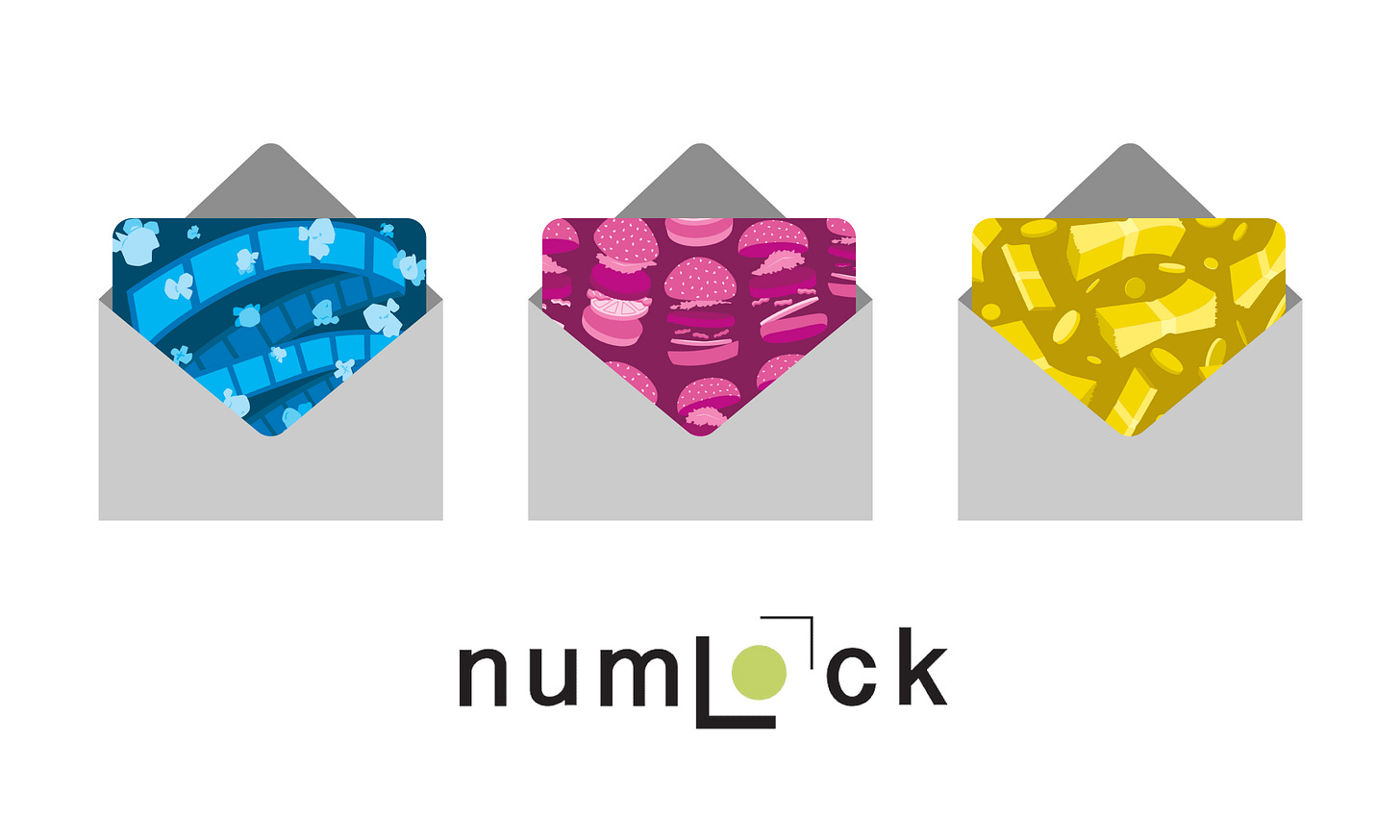 $$