Welcome to Numlock!
It's a snappy morning newsletter by Walt Hickey full of great stories. Thousands wake up to it every day because it's smart, funny, statty and free. You'll start receiving a fun rundown of below-the-radar news with just the right amount of fun and snark. Sign up right now and start getting the highlight of your morning.
If it's not for you, it's simple to unsubscribe, but if you try it you'll love it.
You'll be better informed and entertained. Every weekday you get a totally free edition, never any ads or sponsors, ever. Numlock features seven or so stories from brilliant writers that you might have otherwise missed, or an angle on a bigger story that isn't getting the coverage it deserves.
Other people cover U.S. politics to death, and you can get that elsewhere, so this newsletter focuses on the bigger stories going on in the background you're missing. It's the best way to start the day.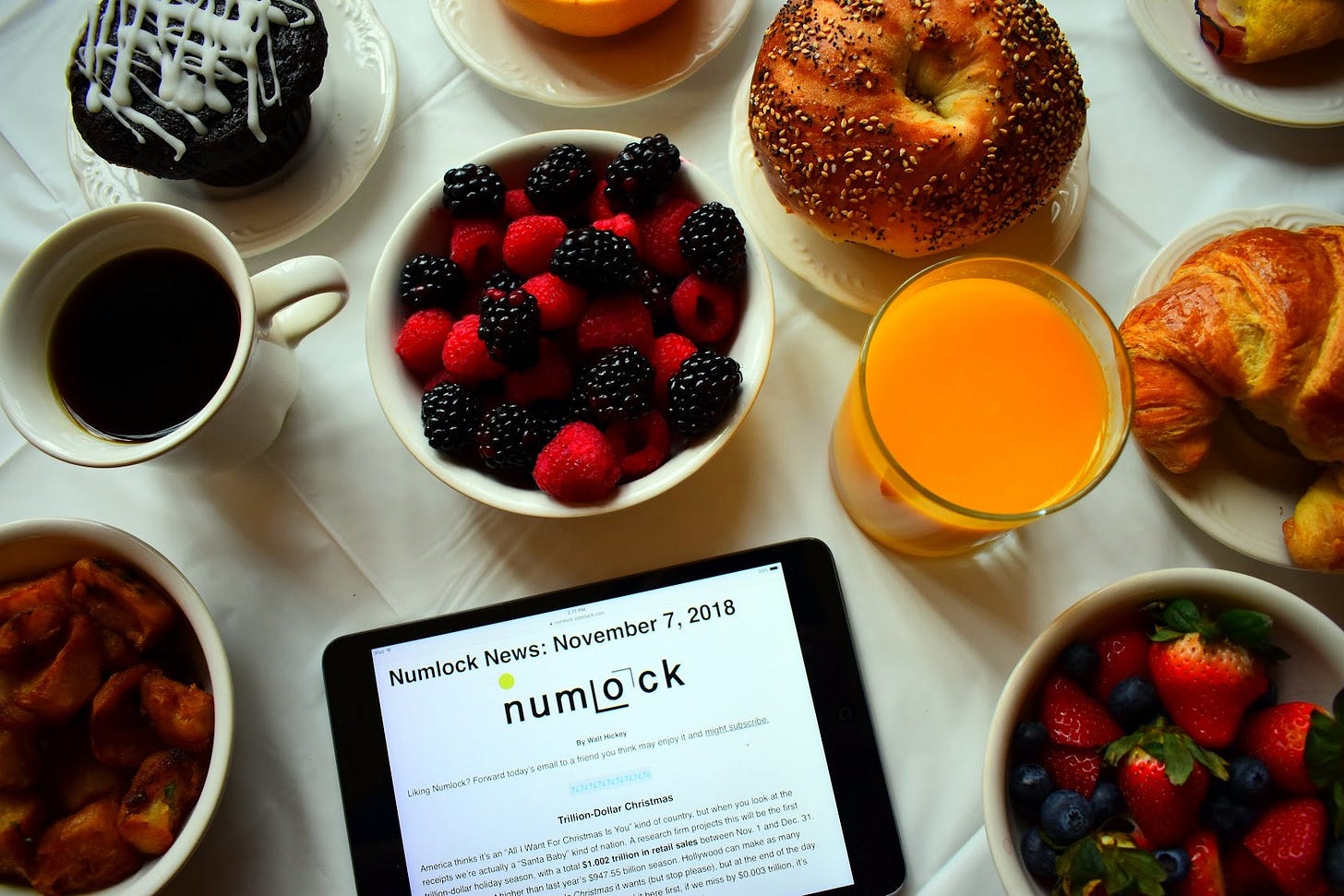 Numlock isn't trying to sell you anything: I didn't get into this business to sell mattresses, so I'm not going to. A portion of Numlock subscribers — over a thousand, actually — end up opting to pay to support the newsletter, and that makes this possible. In exchange, they get a Sunday bonus edition and some other perks you can read about below. But just sign up for the free edition now and consider upgrading down the line if you're a fan.
Consider becoming a full paid subscriber!
When you become a member, you get:
The must-read Numlock Sunday Edition, an inside look behind some of the most memorable numbers including exclusive interviews with the journalists who reported them and authors who are writing great books.

A guarantee that Numlock remains ad-free, forever. I started Numlock to talk about the numbers that captivate me and help understand the news. I didn't get into this business to sell you a mattress. Members make that possible.

Full access to commenting. I've had the chance to talk to lots of you. The forum makes interacting with other readers possible, whether you're a college student looking to network or the manager looking to hire them.

Complimentary gift subscriptions to give to friends and spread the love.

Access to new member features as soon as they come.
All for $5 per month, or 16.6 percent off when you buy an annual subscription.
To find out more about the company that provides the tech for this newsletter, visit Substack.com.

Subscribe to Numlock News
People
Walter Hickey 
Walt writes Numlock News, as well as some other stuff. He's a data journalist who is obsessed with culture, society and fascinating numbers buried in the news.